Friday 19 May, 6:30 am CEST
Start your day in an active way and join us at the first ESPGHAN Run to raise funds for the "Trees for All" initiative and help plant more trees in the world!
About the run
A 5 km scenic run or walk in the beautiful Donau park.
No need to be a fast or a professional runner – we don't give prizes to the fastest one. Choose your preferred speed and enjoy the beautiful surroundings.
Route

How to register
You can register via the registration page when you register for the ESPGHAN meeting.
If you have already registered, please contact our registration department via reg_espghan23@kenes.com to add registration for the Run to your existing Meeting ticket.
We have prepared refreshments for all the runners/walkers. Also, every participant who registers by 26 April will receive a limited edition T-shirt (note the preferred size when registering), after 26 April, a T-shirt is not guaranteed.
The "Trees for All" Initiative
All funds, gathered from the Run will be donated to help the planting of more trees by the Trees for all initiative.
Trees for All is a CBF-recognized charity that plants forests in the Netherlands and abroad for a healthier climate, more biodiversity and better living conditions. They have more than 24 years of experience and for that time they have:
For Everyone and With Everyone
Trees for All believes in the power of collaboration. It is through the building of lasting partnerships that they can guarantee their long-term involvement and make maximum impact. They aim for top quality, so they choose their projects with care. The donations they receive help to implement these projects. They have over 500 business partners and more than 15.000 donors.
Core Values
Trees for All is a dynamic organisation of dedicated people, who work with energy and pleasure on creating a green and healthy planet. Their work is carried out in a sustainable, expert, reliable, personal and positive way.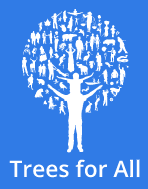 To learn more about the "Trees for All" initiative,
please visit their official website: treesforall.nl